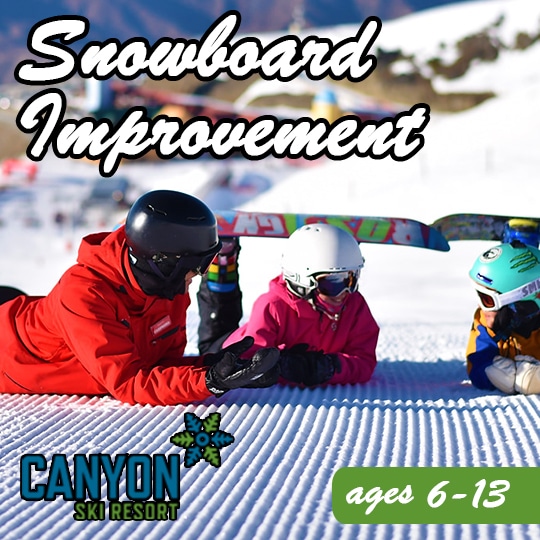 Snowboard Improvement: 6-13 Years
Our Snowboard Improvement Program is intended for boarders aged 6-13 with a basic knowledge of turning, stopping and riding both the Magic Carpet and T-Bar. Our goal is to see your kids further develop these skills and become more confident on beginner and intermediate slopes.
The Snowboard Improvement School starts with a meet and greet to let the parents, children and instructors meet, followed by a 2-hour group lesson.
With encouragement and empathy, our Certified Snowboard Instructors show these young riders how to be mobile on a snowboard and how to have fun at this winter sport!
Canyon's Snowboard Improvement Program Includes:
Four 2-Hour Lessons
Maximum 6 Students per Instructor
Cost
Lift & Lessons: $275
Lesson only (season pass holder): $205
Add Rentals Snowboard, Boots & Helmet: $100

Dates
-Saturdays Nov 25, Dec 2, Dec 9, Dec 16
-Saturdays Jan 6, Jan 13, Jan 20, Jan 27
-Saturdays Feb 3, Feb 10, Feb 17, Feb 24
-Saturdays and Sundays March 2, 3, 9, 10
Lesson Times: 11:45 am-2:00 pm
Registrants MUST have a basic knowledge of turning, stopping, and riding both the magic carpet and t-bar lifts. Registrants MUST have been out for a day of riding this ski season to ensure abilities prior to program start.