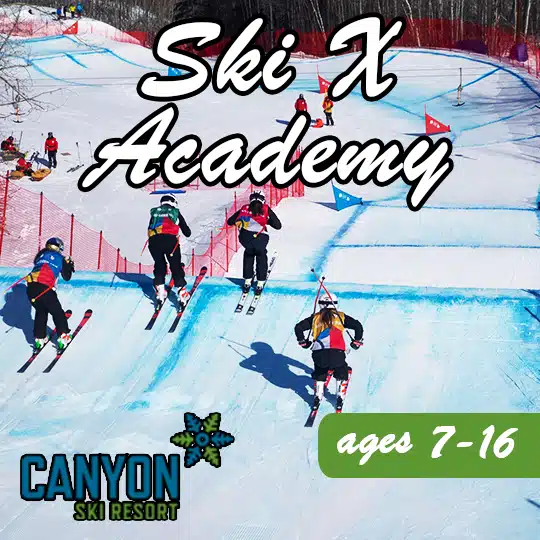 Kick Start Ski X Academy: Ages 7-16
This 10-week program works on building and developing skiers' technical skills in a fun, safe, and recreational way!
Meant for those who are at the intermediate level who are riding the t-bar lift independently and looking to start getting confidence with speed and small/beginner jumps.
The program focuses on technical skiing and race discipline at a grassroots level. Using brush-gate training, increasing participants' comfort with speed, contoured grooming (banked turns, rollers, wu-tangs), and small jumps (with minimal airtime), participants improve their adaptability on snow in a fun, team environment.
Canyon's Ski X Academy ends its season with a fun Ski/Snowboard X Race hosted at Canyon for the program participants!
All registrants must be at an intermediate level or higher and must be able to ride the T-Bar and Chair Lift independently.
8:1 Skier to Instructor Ratio
With this program, we recommend purchasing a Season Pass as they pay for themselves with just 10 visits. The program requires participants to have their own gear. We recommend purchasing used gear from our rental shop over renting each day if you do not already have your own equipment.
This Snow School Program requires a minimum of 6 registrants or will be subject to cancelation. Notice will be given 48 hours prior to any canceled programs and a full refund will be provided.
Cost
$599
Dates
Academy Dates Sundays:
January 7, 14, 21, 28
February 4, 11, 18, 25
March 3, 10
Lesson Times: 1:00 pm-4:00 pm